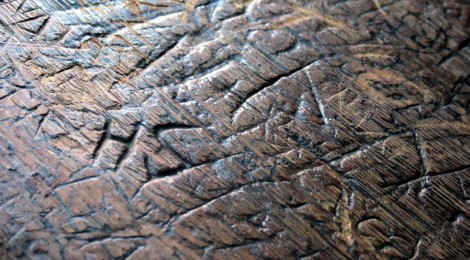 The heavy metal door is pushed aside to make room for the breakfast trolley.  It towers over the nurse who wheels it down the hall, plastic trays rattling as they sit precariously on their metal railings.  In a few minutes, nurses will begin knocking on doors to wake the patients for the day.  It's a routine Ruth (name changed for anonymity) has become used to as a nurse on the child and adolescent mental health unit.
For the past five years Ruth has been caring for children and youth with mental illnesses in this hospital inpatient unit.  Starting as a ward nurse five years ago, she is now the clinical leader of operations, managing the staff and the ward 10 hours a day, 4 days a week.  Her time in psychiatry has been a relatively small part of her 27-year nursing career.
Her career move to psychiatry came as a surprise even to her.  "I never wanted to work in psychiatry.  It was the one area I did not want to go into, and it's the place I ended up."
While she was working abroad as a pediatric nurse several years ago, her hospital began cross-training nurses in preparation for the opening of their child and adolescent unit.  "I said, 'I'll take it.  I don't want to work in psychiatry, but I'll take it because I want to be a better pediatric nurse.'  So for me it was all about pediatrics."
But when she started working with the patients any reservations vanished.  "It broke something down for me.  They became pediatric patients.  They became no different than any other kid with cancer, or a broken leg, or a fever.  They were just kids."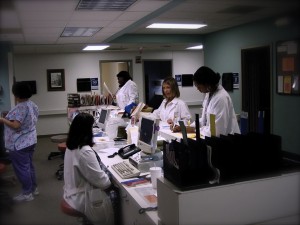 'Kids' is a word she uses a lot.  There's a certain motherly quality to Ruth, and you can feel the affection she has for them when she speaks, a contrast to the more technical term 'patient' or 'client.'
Her optimism is welcome in the unit's rather dreary atmosphere.  The tiles are scuffed from years of activity, and the beige walls are mottled by the occasional dent and missing section of paint.  The faint outlines of past patients' names remain where some have tried to etch theirs into the wall, to be scrubbed off later by the cleaning crew.
Despite its appearance, the unit bustles with activity.  Around the nursing station they try to tame the constant influx of paperwork while patients shuffle sleepily out of their rooms for breakfast.  In the kitchenette, they'll eat and talk with the other kids and nurses, the latter discreetly filing away observations of mood and behaviour so they can later chart patient progress.  The observations recorded depend on the care plan.
"If someone's having difficulty making eye contact, [we ask] 'what is their eye contact like today?' (particularly for kids with psychosis).  Some of the kids don't know how to eat an orange… (basic self care is often compromised for such children) …they've forgotten how at this particular time where they're at.  So it's watching those things, and making your observations and seeing how well the kids are doing, if the medications are making any difference, that type of thing."
The unit is for acute care.  Aside from patients with psychosis and others with exceptionally severe impairment, the average stay is around 13 days.  Long-term treatment will be carried out in the community by outpatient mental health professionals.
When breakfast is done, the children that are well enough will go to school from 9 until 12.  After lunch, there are recreational therapy programs like yoga, leisure education and jam sessions.
In terms of therapy, the psychologist leads a group cognitive behavioural therapy session, and the recreational therapist hosts a group called 'Healthy Living' to give patients the coping skills they will need later.  With the recent addition of a music therapist, Ruth says it is "probably difficult for [the kids] to find time to fit in their friends and family."
The children also receive individualized care.  Each nurse is assigned two to three patients and accompanies them to all appointments with other staff members like psychiatrists or social workers, as well as some meetings with their families.
Although each day is tightly scheduled and tailored to patient needs, things don't always go according to plan.  "I think like every other nursing unit, there's lots of unpredictability.  So you can have someone who's stable and doing well but then there's an upsetting phone call or an upsetting meeting and then the whole day changes."
Recently, one such incident occurred when one of the patients threw paint on the wall.  "One of our kids had become very angry and had thrown her paints around the room.  But prior to that, she'd been using her paints on paper to make beautiful artwork.  So something happened that particular day and she just took the paints and threw them everywhere."
This behaviour was less upsetting to Ruth than the reaction of a visitor on the unit that day.  "He wanted to know why we'd even think to give our patients paint or pencils.  And I looked at him… I just couldn't believe he had said that.  Why wouldn't I give one of our kids paint or pencils?  Comments like that are really hurtful.  It's as if kids with a mental illness deserve less, they deserve to be in a locked space with nothing."
Such comments are prevalent where there remains stigma towards mental illness.  While the unit works to be a stigma-free zone and treat all its patients first and foremost as kids, you get the sense that the nurses may worry about how the patients will deal with such things when discharged.
Still, Ruth remains optimistic.  "People don't know what they don't know.  So they need to be informed, they need to be educated.  I did, right?"
-Jennifer Parlee, Contributing Writer