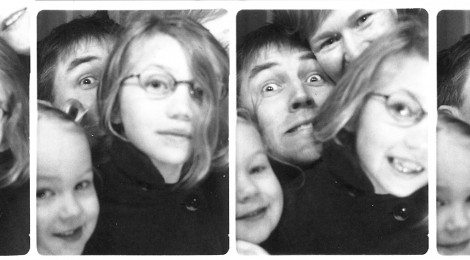 I recently received an envelope of photos from my mother; each image came with a story.  My daughters' favourite turned out to be one about their Uncle David.  Living on a farm in Arkansas, David was four when he got new, slightly too-large, cowboy boots. The clomping noise drove my mother nuts, so she told him to take the boots off or go outside. Hearing the clomp-clomp yet again, she yelled at David; but there was no reply.  She marched into the kitchen only to find it wasn't David at all but their horse in the kitchen…eating the chocolate chip cookies my mother had laid out to cool.
My daughters like the story because it's funny.  And embedded within is the message that parents are not always right –a popular theme with children.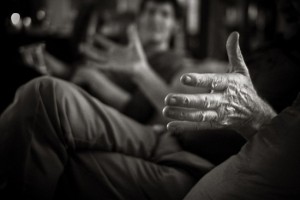 But in the context of so much else we have going on, how important is it to share a story about an uncle my daughters have never met?
Quite important, it turns out.  Research shows that writing about family events and expressing emotions around them can be healing. And Marshall Duke and Robyn Fivush, on faculty at the Emory Center for Myth and Ritual in American Life, found that telling and listening to family stories has value as well.  Key factors in sharing family stories are the life lessons and traditions that are passed on, but there are other benefits too.
Duke and Fivush found that sharing family stories creates resilience in children.  Their "Do You Know?" questionnaire assesses how much children know about their family, knowledge they couldn't have acquired unless they had been told, like "Do you know where some of your grandparents met?"  Children who knew a lot about their family history also scored high for levels of self-esteem and feelings of control and capability.
Duke and Fivush also found lower levels of anxiety and depression and fewer displays of aggressive behaviour in children whose families shared family stories.  The same relationship was not found for families who just talked about daily events.
Stories pass on life lessons, instilling a sense of capability.  And the shared history and time taken to tell stories also fills the need to connect, providing, in Fivush's view, a sense of belonging in our families, becoming a part of something larger than ourselves.
Telling stories in an interactive way, where the child or parent asks for assistance in conveying the story is important to building storytelling skills.  Elinor Ochs, professor of anthropology at UCLA, discusses storytelling as "theory building".  The act of creating a story and having family members challenge your "theory" of events being related helps children develop the skills needed to create and test explanations.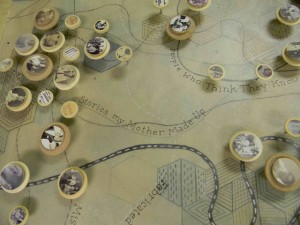 It also highlights something my mother pointed out – there are many versions of the same event. When she and her sisters get together, they argue over each other's renderings:  "That's not what I remember…"  Yet each may be accurate for the teller.
And some stories just need embellishment. My great-grandmother would correct her son about stories he'd be telling, often prompting him to say, "Another good story ruined by a durned eyewitness."
Factually accurate or not, the act of engaging in family storytelling brings richness to one's sense of family, and with that, a connection to a shared past.   I tried to give my daughters a strong foundation from which to create their own stories, and I hope to be there to challenge another tall tale.
-Heather Carter-Simmons, Contributing Writer