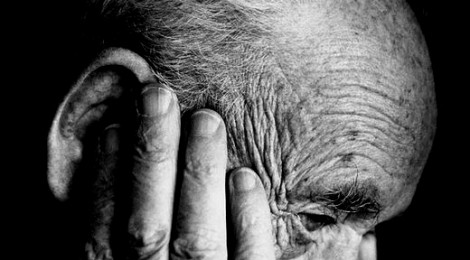 In February of this year, a 68-year-old woman was discovered by authorities in the garage of the home belonging to her son and daughter-in law unconscious, frostbitten, and severely malnourished.  The home, located in Scarborough Ontario, has a garage that is not insulated except for a single dryer vent connected to the furnace.  The victim's son and daughter-in-law had apparently kept the elderly woman in this garage since that November with only a bucket of water for washing, a poorly maintained portable toilet, and a flat sheet of plywood to serve as a bed.  Although the son had called the ambulance after discovering his mother unconscious, both he and his wife have been charged with failure to provide the necessities of life and criminal negligence causing bodily harm.
Elder abuse is defined as "single or repeated acts, or lack of appropriate action, occurring within a relationship where there is an expectation of trust, which causes harm or distress to an older person" (W.H.O., 2002).  With incidence rates increasing between approximately 2% and 10%, it is estimated that between 32,000 and 160,000 of the 1.6 million elders living in Ontario are being abused.  Given the projection of substantially increased growth in the senior population, it is important that we understand elder abuse, recognize the signs, and work toward prevention.
The Trauma and Attachment Report recently spoke with Marianna Does and Helen Adams from Casa Verde Retirement Residence, both of whom work closely with the senior population.
Q:  What are your thoughts about treatment of the elderly in the community?
M.D.:  I believe elders like all people should be treated with respect.  When the time comes in a person's life when they can no longer live independently and need help with personal care and daily living, it is important  that we have places that offer an affordable, safe and secure environment as an option for people to call home.
H.A.:  People in the community should be aware of the signs of elder abuse.  They should intervene when they suspect abuse, report it and educate others on what the signs of elder abuse are.
Q:  Do you have any elderly as residents who may have been abused in the past?
M.D.:  Yes, we do have residents who have been abused in the past.  We work closely with our local hospitals; and recently, a person came to us through the recommendation of a hospital social worker.
H.A.:  Our residence like all others, will now and then receive elderly individuals from the community who have been abused either physically, emotionally, financially, in their own home, and usually by a caregiver that is a family member.
Q:  What does your facility do to care for the elderly and prevent elder abuse?
M.D.:  Casa Verde is an accredited member of the Ontario Retirement Communities Association (ORCA), and we comply with the standards mandated by the organization.  We are also managed by Diversicare Management Services.  Our retirement homes must be accredited with ORCA; and Diversicare also has extensive policies and procedures to assure that we provide the best care for seniors in this environment.
H.A.:  We have programs in place to educate employees on all aspects of abuse and to act on signs of abuse whether the abuser is within or outside the home.
Elders themselves can also help prevent abuse by staying active and maintaining healthy relationships with family and friends.  "The elderly can protect themselves against abuse by not isolating themselves.  They should try to keep in touch with friends and family and tell someone if they think they are being abused.  When necessary, they may also have professionals help take care of their legal and financial affairs," suggests Helen Adams of Casa Verde.  Given that financial abuse by a family member or close friend is one of the most commonly occurring forms of elder abuse, one prevention method may include having cheques or bills coordinated formally through a representative at a bank or other financial institution.
As a community, we can help prevent this kind of abuse by further educating ourselves and our elders.  It is important to listen to elders who may have challenges in expressing themselves.  "My advice to anyone who suspects abuse is not to dismiss any complaint the person might have, even if there may be dementia involved, and even if these complaints are dismissed by the caregiver.  Look for a cluster of physical and behavioral signs, and for any tension and arguments between the elderly and the caregiver," Adams advises.  Visiting the elders of the community and maintaining contact with older friends and family members may also be beneficial.
If you are a concerned friend or family member of an elderly person possibly being abused, or you yourself are being abused, you can call the Senior Safety Toll Free Line (Ontario):  1-866-299-1011.
– Amanda Bartella, Contributing Writer