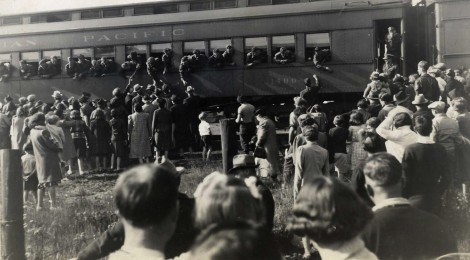 Immigration related trauma has many faces.  Complex cultural, political and social issues arise when people choose or are forced to leave their country of origin.  Particularly vulnerable and often overlooked, are the citizen children of illegal immigrants.
These children are pejoratively referred to as anchor babies, and their circumstances are complicated.  Parents immigrate to North America, oftentimes seeking refuge from persecution, poverty and corruption.  After working and living in what can sometimes be years, families grow and children are born.
In today's volatile political economy, problems with the immigration system can occur and these parents are often denied the ability to remain permanent residents; they are forced to leave.  Their children, U.S. or Canadian citizens by birth, are subsequently denied their birthright and, because of the deportation of their parents, are robbed of the benefits that other citizens receive.
The Brampton Guardian reported one such story about a refugee family from Uruguay that came to Canada in 2001.  Daniel and Veronica Carnales immigrated so that their son, four year old Santiago, could have a chance at a better life.  The family lives in a Brampton home and have been paying a steady mortgage.  Daniel found work as a carpenter and then obtained a general manager position at a transportation company.  In this time, their son Aaron, who suffers from Down's syndrome, was born.  Aaron requires special medical attention, attention that his parents say he simply would not receive in Uruguay.  Their requests for refugee status on humanitarian grounds have been rejected.  They face deportation for the third time.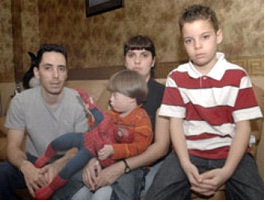 In response, the Carnales family has received support from their community, as well as local Springdale-Brampton Member of Parliament, Ruby Dhalla.  An online petition that currently holds 1047 signatures directed towards the Canadian Minister of Citizenship and Immigration, Diane Finley, asks that the family be granted refugee status.
Startlingly, the overall picture of immigration enforcement in North America is even bleaker than what the Carnales family has had to endure.  In 2009, The Urban Institute, a non-profit policy research institute based out of Washington, D.C. as well as Dorsey & Whitney Law Firm published a 219 page document entitled, Severing a Lifeline: The Neglect of Citizen Children in America's Immigration Enforcement Policy.  Information about the dark underbelly of U.S. Immigration and Customs Enforcement (ICE) is captured, with some of the most disturbing aspects of this report found under section 5C:  The Threat of Long Term Harm to American Children of Undocumented Immigrants.  The section discusses worksite and home raids by ICE that have terrorized families and communities.
These raids, oftentimes violent and damaging events, have been reported to occur in the presence of children.  Traumatic consequences for these children are evident.
The report describes cases of long-term disturbance among children who underwent separation from their caregivers for even a day.  Some parents claim that their children cry uncontrollably when dropped off at school or day-care because of the fear of being separated from their caregivers again.  Psychologists have noted signs of depression, anxiety, and even post-traumatic stress in some of these children.
Community ostracization is another consequence of these public, humiliating raids.  The report describes one woman's experience, "Nobody talks to us anymore.  They treat us like criminals."  Families are described to "turn in on themselves."  This social exclusion and isolation can induce depression and accentuate psychological distress among parents and children.
Psychologists have noted that some children appear to have absorbed the feeling of being labelled an outcast and are living isolated from their previous social networks.  These children are often stigmatized and harassed for having parents who have been arrested.  This stigmatization causes some children to live in the constant fear of friends and peers finding out the identity of their parents.  They are sometimes warned to keep this a secret, which can further contribute to feelings of isolation and shame.
.The report describes one young boy who witnessed his pyjama-clad father handcuffed and arrested in the middle of the night.  His mother reported that he could not sleep for weeks after the raid for fear of her being taken too.  This begs the question:  What happens to families that lose the primary breadwinner to forced deportation?  According to the Urban Institute, families often suffer from poverty because the remaining parent lacks the documentation required to gain employment.
Women, whose husbands have been deported, find themselves suffering, as many of them have no means of transportation, having never learned to drive, and they are unfamiliar with bank accounts and financial obligations because their husbands had taken care of such matters.  Some immigrant women struggle to feed their children and are forced to rely on food banks, churches and other non-government charitable organizations.
The 2010 film, Anchor Baby, winner of Best Film and Best Actress awards at the Harlem International Film Festival, presents a story that exemplifies this situation.  Protagonist, Joyce Unanga, suffers a sad fate after the deportation of her husband, Paul, leaves her alone and pregnant.  The film portrays the bureaucratic complications and psychological hardships that can occur from this situation in a way that is strikingly realistic.
So what alternatives do government officials offer these fragmented families and their at-risk children?  A sad trade-off, especially for youngsters needing special attention like Aaron Carnales.  Children have the option of temporarily moving to detention centres with their parents when there is no extended family to take care of them.  More often than not, they are deported back to their parents' country of origin alongside their parents.  In other words, they are denied their birthright; the chance to grow up in a country where they would receive proper medical attention, quality education and all the rights of a U.S. or Canadian citizen.
Is seeking asylum a right or a privilege?  Detention and deportation are the most extreme ends of the road for many immigrants.  Citizen children are not the only casualties.  It is common practice in North America that people fleeing from dangerous circumstances in their countries are denied refugee status and sent back home, at times to die.
"The assumption is that those whom Canada is deporting are 'undesirables' who 'failed' the designated legal processes to become a refugee or an immigrant.  However the reality is that an increasing number of asylum seekers are being deported because of structural flaws in the refugee determination system" (nooneisillegal.org).
Last year No One is Illegal-Toronto organized the Shelter Sanctuary Status Campaign.  They have managed to stop the Canadian Border Service Agency (CBSA) from entering, waiting outside or contacting any organization that serves women survivors of violence in the Greater Toronto Area.  The CBSA can no longer inquire about the identity of any undocumented women in these sanctuaries, a change that is the direct result of rallies, press conferences and of openly challenging immigration enforcement practices.
Visit: http://toronto.nooneisillegal.org to educate yourself and share stories you may have on immigration related trauma.
-Anjani Kapoor, Contributing Writer