With its unique blend of humour and tragedy that mirror true life circumstances, Silver Linings Playbook is a triumph.  Directed by David O. Russell, it tells the complicated story of Pat, played by Bradley Cooper, and his struggle to find normalcy after a bipolar episode sends him into a state institution for eight months.
Pat's story begins when his parents (Robert DeNiro and Jacki Weaver) take him in to help him get back on his feet.  Believing he can prove to his estranged wife that he is worth taking back, although the restraining order filed by her indicates otherwise, he takes up working out every day and reading the entire list of books that his wife, a teacher, assigned to her high school students.
Aside from the occasional violent mood swings that cause him to wake his parents at four in the morning to rant about Ernest Hemingway, Pat seems to be a decent guy who proactively tries his best to stay positive through tough situations.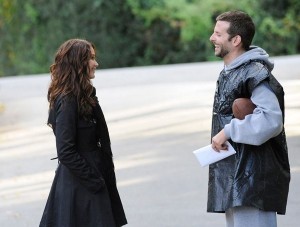 Soon after his return home from the institution, Pat is introduced to newly widowed Tiffany (played by Jennifer Lawrence, earning her an Oscar) at a dinner party.  The two hit it off quickly by comparing various psychotropic medications that they have taken.  Their friendship is strange, but Tiffany seems to be the only one capable of matching all of Pat's eccentricities and odd behaviours.  She even offers to help him patch things up with his wife if he does her a favour in return and enters a semi-professional dance competition as her partner.
With odd and flawed characters, mental illness, awkward interactions, and raw emotion, Russell does an excellent job of capturing human facade, through characters like Tiffany's sister and husband, or Pat's father, played by Robert DeNiro.
Robert DeNiro is endearing yet lamentable as an individual with severe obsessive-compulsive disorder, whose rituals limit himself and his family.  In fact, looking beyond the surface, just about every important character in this story has something amiss, but in a way that makes them and the film more believable.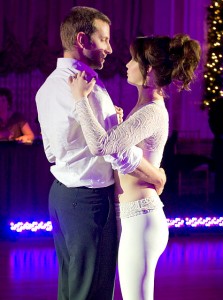 The plot structure does however seem to oscillate between vague and eccentric, and narrow and predictable, sometimes even seeming as though the story arc is forced toward a resolution because of its subject matter.  The audience wants to see Pat and Tiffany resolve their grievances and get together, and the dance competition is an obvious means to that end.  No one wants to think about the fact that Pat is likely to suffer from his disorder for the rest of his life, or that the two won't end up together.
Calling Silver Linings Playbook a romantic comedy is only partially correct.  Yes, there are the elements of an unconventional romantic love story, and dark humour present just below the surface.
Really, the film is about acceptance, from others and from within.  It is about a strained father-son relationship which never quite normalizes because of hang-ups that maintain the rift between them.  At times, everything strips down to escalating clashes between mentally unstable individuals, but that is also what gives the raw drive to push the story forward.  Definitely worth watching, the viewer should keep in mind that outside the theatre, neat resolutions of life and circumstance are highly unlikely.
In the end, it is the idea the movie presents, that love is not about finding the perfect person but finding the person whose flaws complement your own, that redeems it completely.
 -Ruth Shach, Contributing Writer