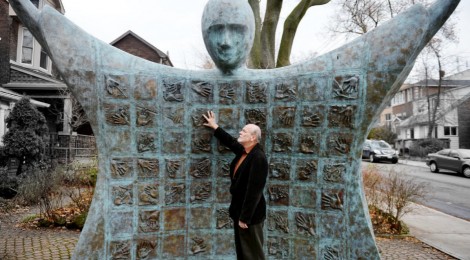 In 1990, an idea started to grow in the mind of Michael Irving, a sculptor, psychotherapist, and survivor of childhood abuse. After listening to many stories like his own, Irving saw the need for acts of remembrance and social awareness on behalf of survivors.
But recent failed government support has meant that the monument he eventually built to abuse survivors has remained mostly out of view.
Between 1999 and 2001, a team of sculptors came together to transform almost 300 quilt squares into a large childhood abuse monument. A Canada wide tour also took place to bring awareness and support.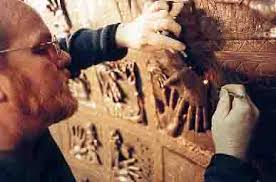 After meeting Irving in 1997, Martin Kruze, also a survivor, saw the public monument as a vision of change for generations to come.
From the 1960's to the 1980's, a "sex ring" had been operating throughout schools and sports venues in Toronto, Canada. Martin Kruze was one of many children who had been groomed (a process where an offender draws the victim into a sexual relationship and maintains secrecy). He was sexually abused at Maple Leaf Gardens in Toronto. And at 32, Kruze went to the Gardens' officials to break his silence.
Initially, he settled financially with Maple Leaf Sports and Entertainment, pushing him back into silence and depression. But four years later, Kruze decided to speak out.
Following Kruze's complaint, other survivors came forward and the perpetrators were brought to trial. Sadly, just three days after his perpetrator was sentenced to two years in prison, Kruze jumped off a bridge that crosses over a Toronto highway, the Don Valley Parkway.
Following his death, Kruze's family reached out to Irving and he later became featured on the monument. Kruze's square is one of 276, featuring the casts of hands which child abuse survivors and their loved ones created. These squares are placed on two androgynous bronze statues that appear ready to embrace pedestrians passing by.
Since 2009, Irving has been working to have this monument installed at Queen's Park, an urban park in downtown Toronto, near the legislature and the city's hub for health, education, and government. He maintains that this is where the monument should be placed, since it would send a message to politicians that efforts to prevent child abuse need to be improved. In a recent interview with The Toronto Star, Irving states that the monument would provide children on school field trips a chance to learn about the issue.
But the Ontario government recently responded that the cost would be too high to assemble, place, and maintain it.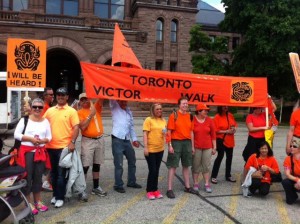 Irving intends to donate the monument at no cost to taxpayers. And he maintains he has donors, and is ready to organize fundraisers to help cover costs, but he has yet to receive a favorable response.
Efforts are being put toward building support for the monument by encouraging individuals to contact members of provincial parliament (MPP) to emphasize the monument's low cost and high benefit.
Perhaps the Ontario government will change course, and see the potential impact of the initiative. But until then, the monument will stay on Irving's driveway.
– Danielle Tremblay, Contributing Writer