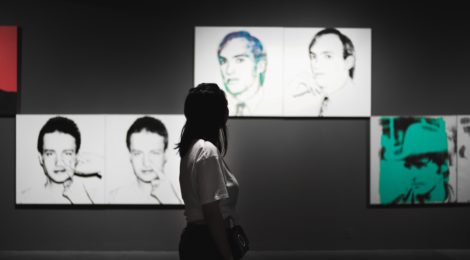 Our attempt to understand the mystifying mind of the legendary visual artist and filmmaker Andy Warhol (born Andrew Warhola Jr.; August 6, 1928 – February 22, 1987), is often eclipsed by our caricature-like memory of him. Central to the pop art movement, it can be easy to forget that one of Warhol's greatest creations was his image itself – a satirical masquerade not everyone seems to have caught onto. However, if one takes a closer look, one will discover a true artist. One who revolutionized the art world forever and whose ideas were often influenced by a confrontation of death and disaster. 
A stark contrast to the upbeat colourful imagery commonly associated with Warhol's most famous works of art like his Campbell's Soup Can paintings, and iconic portraits of Marilyn Monroe, are macabre collections like his Death and Disaster series. Warhol's eerie collection of chilling photos of car crashes, suicides, race riots, the electric chair, and nuclear explosions illustrates the power of the mass media, and how we become so desensitized to such horrific acts when such gruesome imagery is shown in continuous repetition as illustrated below in Black and White Disaster #4 (5 Deaths 17 Times in Black and White), from 1963.
Warhol himself experienced his own close call with death in 1968 after being shot by Valerie Solanas, a radical feminist writer who apparently struggled with schizophrenia. Although he survived, he endured pretty severe damage to his left lung, liver, spleen, and intestines. Yet still, he chose not to testify against Solanas. Some may be surprised to know that Warhol's famous gun painting, beyond the artist's depiction of the commercialization of violence, is actually a very close replica to the .22 snub-nosed pistol he was shot with by Solanas. Perhaps unexpectedly, even intrigued by her, he empathizes, "Crazy people had always fascinated me because they were so creative—they were incapable of doing things normally. Usually they never hurt anybody, they were just disturbed themselves…"
In spite of speculations of Warhol's own mental illnesses, no official diagnoses had been made. He did, however, meet the criteria for a hoarding disorder, which was possibly fueled by the Sydenham chorea and "nervous breakdowns" he suffered from as a child. Perhaps Warhol's greatest masterpiece – our memory of him, should be left as the artist intended. Left as an eternal enigma that will never be solved. Why mess with one of his greatest creations?
Image Credits:
Feature Image: Mingjun Liu, On Unsplash, Creative Commons.
Body Image 1: dou_ble_you, On Flickr, Creative Commons.
Body Image 2: appelogen.be, On Flickr, Creative Commons.