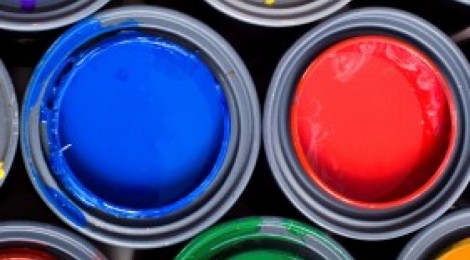 Sayaka Yamanouchi is an artist who does portrait and landscape painting.  She uses art both as an end in itself, and as a means of healing trauma.  We interviewed Sayaka about her journey and her relationship with her art.
Q.  When did you first become interested in portrait painting?
 A.  My Mom took me to a classical art museum when I was around eight or ten in Tokyo.  Some of the paintings were from Europe.  I looked at one of the portraits of a lady who was wearing a huge wig [laughs]; she had pale skin.  I thought it was just beautiful.
Q. Who has inspired you the most?
 A.  In the Montreal Museum of Fine Arts, there was a permanent collection of women's portraits.  I was struck by the artists' dedication to technique and how they depicted women in such a feminine way.  Also, I had read about the neoclassical painter Louise Lebrun.  In reading her biography I felt a connection to her, as though she was a friend.
Q:  How do you think your life is reflected in your art?
A:  When I was about fifteen years old, I felt pressure from society about how I was expected to act, and the person I was supposed to be.  My mom would say "You must get married, go to university for business or science, and settle down."  She and my father both had fixed ideas about how I should live.  Painting portraits became internalized in my soul.  I found happiness while painting.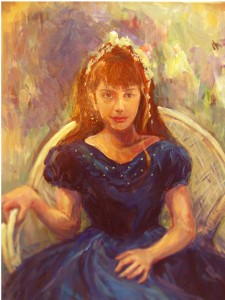 Q:  How has your art helped you cope with painful periods in your life?
A:  I think that art and portrait painting helped me transform myself.  Growing up and into adulthood, I experienced depression.  My mom was also severely depressed and I had to take care of her.  I was highly criticized in school, so I had to protect myself. When I first came to Canada, people treated me very badly.  I became a victim of harassment and later attended personal seminars at a crisis center because I thought it was my fault. I recalled how 19th century authors and painters depicted their heroines,  and I began to think about how our self image can get  distorted, how it needs to be reinstated somehow to survive.  I knew this was a process of survival that I needed to engage in.  My art became a way to arm myself with the knowledge that the world is not perfect.  I began to think of portrait painting as a way to nurture a healthy self image.
Q:  Has your art ever made life more difficult for you?
A:  Yes, I have not always received understanding and respect as an artist.  There seems to be this idea that artists are soft and irrational thinkers.  My family wanted me to become a scientist or a business person.  I tried hard to do what they wanted, but I was spiritually hungry.  My body was screaming to find a more peaceful place in a more peaceful culture.  Even though my parents were against my pursuit of art, I knew their opinion was not right for me.
Q:  How would you describe your way of doing self portraits?
A:  I work with my self-portraits in a way inspired by the story of Charlotte Bronte.  She lived in an orphanage and started teaching herself how to draw portraits.  She saw herself as a little homely, and began by drawing herself as she felt, with all her imperfections.  Then, she drew herself as an accomplished woman.  I feel there are as many aspects of myself.  First I paint myself as I see and feel about myself in that moment.  I will then paint myself as a vision of how I want to look, or how I want to become.
Q:  Where has your art led you?
A:  I see my art as my friend.  We are very close and I don't think I could live without it.  It has led me to help others through portrait painting and landscapes.  I believe I have a purpose that I am still discovering.  Art has led me to believe that we need to fulfill a desire to come back to ourselves and nature.
Q:  What is it like for you to help others through art?
A:  While I am painting I just focus on that.  After it is done, when the client and I step back and look at the portrait, it feels like we have given birth to something.  It is very exhilarating, exciting, and sometimes overwhelming.  As I see how the clients are moved by the painting, I feel very happy too.
Q:  What do you think you have learned the most from your relationship with art?
A:  I am still learning and I will continue to learn.  First, I have learned to respect what I do.  Second, I have learned that self discipline and creativity go hand in hand, and how to develop these two qualities.  Louise Lebrun was very disciplined.  She had obstacles to overcome politically, and she continued working on her art despite resistance; she knew she had a destiny to follow.  Third, I see art as a very basic component of human need.  No matter what is going on in the world, art always enhances humanity.  If I am lucky, through my art, I will continue to be touched and moved on a basic human level.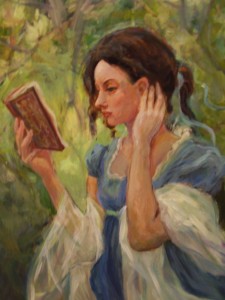 –Michelle Denis MacDougall, Contributing Writer