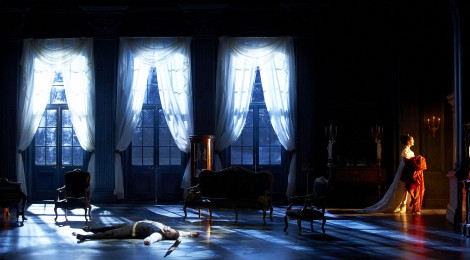 http://youtu.be/n6kTmWYIAcw
For over a century, the image of Floria Tosca plummeting to her death is one that haunts the hearts and minds of opera lovers around the world.  Tosca, arguably Puccini's most beloved opera, offers audiences what lighter, fantastical operas involving water spirits, witches and mermaids often fail to bring to the stage:  the art of vividly relatable human experience.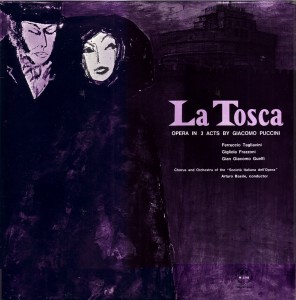 Tosca's characters battle with issues of piety, desire, political revolt, sexual blackmail, assault, attempted rape, murder, romance, betrayal, and suicide.  If like me, you relish the passionate side of life, you will appreciate that each of the three acts leaves you reeling from rage to despair.
With such a small cast, Tosca demands both musical and theatrical intensity from its performers; and the Canadian Opera Company's (COC) cast did not fail to deliver Puccini's classic with full bodied emotion and drama (Four Seasons Centre, Toronto, January 21-February 25, 2012).
I was initially disappointed to discover that the lead role of Floria Tosca would be sung by the understudy of the much anticipated Adrianne Pieczonka, however my disappointment proved to be misguided as Julie Makerov, singing the role of the epic diva for the fourth time, brought both intense passion and sensitivity to the demanding role.
From tender love scenes to murderous fits of rage, this soprano proved that she has what it takes to be an over-dramatic opera singer.  Good thing too, because the character she portrays, Floria Tosca, actually is an over-dramatic opera singer!
Making his COC debut, Carlo Ventre handled the treacherous themes of jealous love, political torture, romance, and assassination with boldness and heroism.  Through his portrayal of the painter Mario Cavaradossi, he evoked powerful emotion in his audience.  I wept not only for the death of one of my most beloved opera crushes, but for the Uruguayan tenor who stole my heart during "E Lucevan le stele," the romanza he delivers so tragically before his death.
Mark Delavan was entirely convincing in his depiction of Scarpia, the villainous chief of police who attempts to blackmail and rape Tosca while he has Cavaradossi tortured in the next room.  To be honest, I expected his performance to be lacking and tired, considering he was the only lead who chose not to have an understudy perform for the show.  But he sang with such strength and persuasion that he left the audience buzzing during intermissions about his performance.
The supporting singers as well as the chorus all did their part to capture both the malice and heartbreak of the story, and conductor Paolo Carignani made sure to keep the orchestra powerfully present without drowning out the stars.
The set and costume design were a refreshing throw-back to more traditional styling; unusual for the COC as they often choose modern interpretations that do little to satisfy those thirsty for truly dramatic opera.  That being said, it is hard to imagine a company not dressing their cast in the beautiful and lavish period inspired costumes, so appropriate for the dramatic and colourful century that the opera Tosca is famously set in.
If you feel like you might need something a little heavier during a season devoted to chocolate coated love and frilly Hallmark cards, seeing Tosca throw herself off the gallows after the death of her true love might be just the thing you're looking for.
There's nothing like getting dressed up for a little cathartic release.  The show runs until February 25th at the Four Seasons opera house in Toronto.  And please, don't forget a packet of tissues.
To purchase tickets online visit http://www.coc.ca/PerformancesAndTickets/1112Season/Tosca.aspx and make sure to look for discount tickets if you are under 30 years of age http://www.coc.ca/PerformancesAndTickets/Under30.aspx
-Jana Vigor, Contributing Writer