The acrylic and oil painting Psychology Books is an homage to mental health. Toronto artist Holly Farrell painted vintage psychology books that she has collected over the years. When asked about why she chose these objects, Farrell says:
"These books detail a vigorous search to understand how the mind works, how it affects the body, and how to cure the soul. These books are a reminder of how far we've come, and how far we still need to go."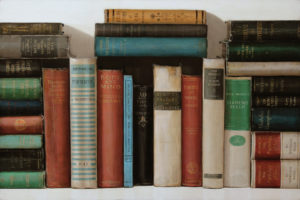 Leafing through these tomes provides a glimpse of our journey of care, missteps, triumphs, and finally, a structure that provides people with rights and access to a variety of methods of healing.
Image Credits:
Feature Image: Wallace Chuck , On Pexels, Creative Commons
Body Image: Holly Farrell, Used with artist's permission