October is National Domestic Violence Awareness and Prevention Month in the United States. As women and girls are disproportionately impacted by this type of violence, this month is an opportunity for us to make changes to ensure their wellbeing and safety. 
Annabelle Bail (she/they) sparks an important conversation about intimate partner violence with her artwork. Bail is a queer multidisciplinary artist who, as she describes, uses "contemporary techniques to compose bold and colourful expressionist artwork." They currently reside in Vancouver, B.C., specifically on the unceded traditional territory of the Snuneymuxw nation.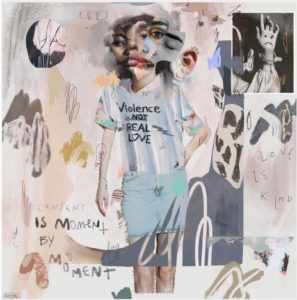 Her piece "Violence Is Not Real Love" strives to bring attention to the challenges faced by women who have been subjected to violence. In conversation with the TMHR, they describe their symbolic use of colour in the image. Using a soft colour palette, they convey the warm feelings associated with self-love and self-worth. This is juxtaposed to dark greys and browns that are used to represent the pain and harm caused by domestic violence. 
She also describes the necessity of centering intersectionality in the conversation around domestic violence. To do so, Bail places multiple women's faces on one body, conveying that anyone can experience domestic violence.
The phrases scribbled in the background of the image are quoted from women residing at Haven Society, a transition house located in Nanaimo, B.C. Bail describes these messages as "affirmations that women everywhere deserve respect and equality, not abuse disguised under a false narrative of love." 
By speaking out about domestic violence we increase the visibility of experiences that have been pushed into the shadows. Through spreading awareness Bail notes that we're sharing the valuable message that "love isn't supposed to hurt."
If you or anyone you know is in distress and facing domestic violence, please reach out and speak to someone by accessing the resources here.
Image Credits:
Feature Image: Sydney Sims, On Unsplash, Creative Commons
Body Image: Anaevisual, On Instagram, Used with artist's permission