Louis Wain was born in 1860 in England and became known for his anthropomorphic drawings of cats. Initially, the drawings were created to amuse his wife, whom he lost to cancer shortly after their marriage. After his wife's passing, Wain spiralled into a deep depression ultimately triggering an underlying predisposition for schizophrenia, which he was diagnosed with at age 57. Wain spent the remaining years of his life being shuffled between psychiatric institutions. While Wain struggled with his diagnosis and his changed perceptions of the world his artwork became increasingly unfamiliar when compared to his past work. His early work often depicted cats as large-eyed, cuddly, happy creatures, who were presented in social situations, such as playing games, or dating – they now took on a more geometric, vibrant coloured persona. This psychedelic kitten was created when Wain was hospitalized at Napsbury Hospital, where he eventually died.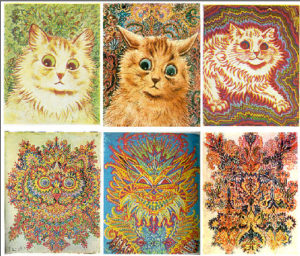 Image Credits:
Feature Image:Fiona Art, Creative Commons, Pexels
Body Image: Louis Wain, Kaleidoscope cat, c.1930, private collection. Wikimedia Commons.