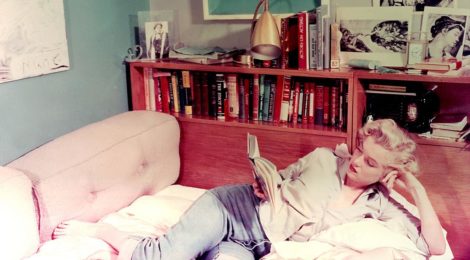 The prolific legacy of Marilyn Monroe (born Norma Jeane Mortenson; June 1, 1926 – August 4, 1962) is often overshadowed by the mysterious circumstances that surrounded her death; an epic tale riddled with scandal, myth, and conspiracy theories. Often overlooking the woman behind those iconic blonde locks, sultry red lips, and signature voluptuous figure, our memory of Monroe tends to fail in capturing her true essence. This begs the question, who was the real Marilyn? 
The answer may lie within Fragments, a collection of hand-written intimate letters, personal notes, and poetry by Marilyn herself. The book was based on two boxes of personal poems and manuscripts discovered by Anna Strasberg, widow and beneficiary of Lee Strasberg, Marilyn's acting coach, dear friend, and beloved father figure, who inherited Monroe's estate and personal belongings when she died. 
When Marilyn first approached Strasberg, the godfather of method acting to mentor her, he agreed to take her on as a student however under the condition she undergoes psychoanalysis since "The Method" requires actors to access the deepest parts of their innermost feelings and memories, to truly inhabit their role. During this time, Marilyn's intense self-reflection was captured on paper as she documented her innermost thoughts and aspirations. 
Monroe's collection offers a glimpse into the mind of a deeply complex and sensitive soul. However, one that clearly had been struggling with bouts of loneliness and depression. Although fragmented, the collection reveals a highly inquisitive and cultured woman with a passion for literature and fine arts. She was clearly very perceptive and dedicated to mastering her craft, contrary to her ditsy blonde persona constructed by Hollywood.
The official story of the cause of her death is due to an overdose. However, as to whether this was an accident or suicide is still unconfirmed to this day. Although the Netflix documentary, The Mystery of Marilyn Monroe: The Unheard Tapes, corroborates much about FBI cover-ups, and her relationship with the Kennedy brothers, Robert in particular, it merely scratches the surface in uncovering who the real Marilyn Monroe was. Fragments help fill this gap, as readers instantly become a fly on the walls of her ever-enigmatic psyche. 
The collection of writing can be found on Amazon.
Image Credits:
Feature Image: Mikel Agirregabiria, On Flickr, Creative Commons