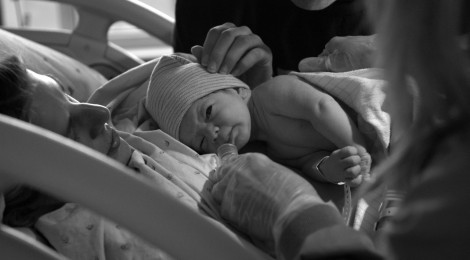 When a person is sick, especially a child, there can be no greater sense of relief, safety, and care than a supportive family.  Parents also gain comfort and a sense of relief, when they can be close to their ill child.  A number of studies have shown that ongoing family support helps children cope and stay motivated to get better, whereas loneliness can impact an individual's health for the worse.  Ronald McDonald House Charities (RMHC), one of the organizations that provide housing for the families of hospitalized children, recognized this need and opened their doors for the first time in 1974.
The first such house was started after Philadelphia Eagles tight end Fred Hill and his wife endured three years of sleeping in waiting rooms, while their three-year-old daughter underwent treatment for Leukemia.  With the help of members of the Eagles team, McDonalds, and Audrey Evans, M.D., head of the pediatric oncology unit at Children's Hospital of Philadelphia, Hill raised enough money to buy an old house near the hospital.  Now with properties from Rio de Janeiro to Amsterdam there are 305 Ronald McDonald Houses in 52 countries and regions, providing over 7,200 bedrooms to families around the world, saving over $257 million in hotel costs.  The RMHC staff also support families by providing educational programs as well as a sibling support service, non-clinical support services, and recreational activities.  Families either stay at no cost or are asked to make a donation of up to $25 per day, depending on the house.
The Trauma and Attachment Report had the opportunity to interview Jessica and Dan, parents of a baby girl who was born with a congenital heart defect called Scimitar syndrome.  As parents, they accepted the opportunity to stay at a Ronald McDonald house for about six months.  During the final month of their stay, Emma passed away due to heart failure.
J & D:  When Emma was admitted to Sick Kids hospital, we went home for the first night.  It was the longest night of our lives.  We got a phone call from Sick Kids at three a.m.  It was a call asking permission for a routine blood transfusion, but it scared us to death.  It was at that moment that we decided not to spend another night away from her.  When we got back to the hospital, we applied to stay at the Ronald McDonald house.  To be honest we didn't know what to think.  We still weren't sure about the severity of her condition.  All we knew was that we needed to be with her.  We were hoping that the Ronald McDonald house could provide us with a place to stay in close proximity to the hospital; so if an emergency arose, we'd be close by.
When a child falls ill, the lives of the family change drastically.  When Emma first became too sick to live at home, Dan attempted to go back to work while Jessica stayed with Emma at the hospital.  After days of being unable to concentrate at work, Dan realized he needed to be with them.  It was only about a month after leaving his job that they lost their apartment.  With neither of them working they couldn't carry the cost anymore.
J & D:  But all of that was nothing compared to what our little girl was going through, and we would give it all up again if we had to.  It was up to us to decide what was right for her; in order to do that we needed to be with her.  We were her voice.
But a house is only a home if families feel a sense of comfort and familiarity.  Hospital housing like the RMHC and other organizations serve people from around the country and the world.  This can be difficult at times due to language and cultural barriers.  Western organizations that house families of all backgrounds need to be sensitive to varying customs by acknowledging differences and supplying a diverse staff to help with the readjustment.  Families move to these houses, hopeful that their lives will become more manageable.
For Jessica and Dan, Emma occupied their every thought.  The move had to be done and it came naturally to them.
J & D:  As long as we were with her, we were home.
A number of studies have shown that when a family with an ill child learns the medical situation and prognosis, and establishes a social network with staff and other families, they can better cope with the stress and uncertainty they experience.  Hospital housing makes this possible by giving them a sense of normalcy and a feeling of control over their lives.  Being close, Jessica and Dan were able to be involved in every aspect of Emma's treatment.  Even on those rare occasions when they were not by her side, they could be there within minutes if needed.
Of course, not every family that moves out of a hospital house leaves because their child has recovered.  For Jessica and Dan, moving out was harder than moving in.  After Emma died, not only did they feel the overwhelming loss of their daughter, but they also left the supportive friends they had made.  They had become accustomed to the house and suddenly everything was taken away.  The grief of losing a child can weigh heavily on parents.  To help, most hospital housing organizations provide necessary aid for families to readjust, with counseling and other related resources.
Dan:  After Emma died, Jessica started Emma's Angels, an organization dedicated to raising funds for Sick Kids hospital.  Before Emma, we rarely donated, but now we do at least four or five fundraising events a year.  Emma was here for a reason, and her death has made Jess and I better, stronger people.
-Stephanie Rhys, Contributing Writer