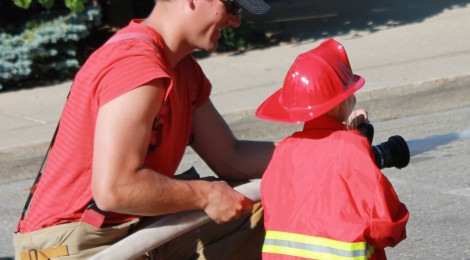 On July 5th 2011, Canadians watched as Melissa Styles, wife of the late Constable Garrett Styles, spoke at the fallen officer's memorial service in York Region.  It is difficult to imagine how it must have been for his wife to address hundreds of law enforcement workers while grieving the loss of her husband, but there she stood in front of her family and community, delivering words of comfort.
With every career comes a level of expectation, and often there are those expectations that rest on the shoulders of family members.  September 11th 2011 marked the ten-year anniversary of the devastating attack on New York City.  Three hundred and forty three FDNY firefighters and paramedics, both on and off duty, lost their lives that day.  The impact of 9/11 was devastating and widespread, regardless of where one worked or lived.  But, it was not only the emergency personnel themselves that were faced with devastating hardships, the family members of these workers bore an enormous weight as well.
The Trauma & Attachment Report recently had the opportunity to interview Rebecca, who is both the wife and daughter of firefighting men.  Her first-hand account sheds light on the lives of the families of emergency responders, their successes and struggles, and the tremendous role the secondary family, the brotherhood of fellow firefighters, plays.
When she was young, Rebecca only knew the good things that came with having a father who was a firefighter:  visiting the fire station, sliding down poles, riding the trucks.  It was only as she got older that she became more aware of the difficulties.  She'd often choose to stay home with her mother rather than go out with friends when her father worked the night shift.   She also gradually became more aware of what her parents were not telling her.  Like many other such families, her parents chose to keep much of what her father experienced to themselves, rather than bringing it home to the children.  Now a mother of two boys with a husband who is an acting captain of their region's fire department, Rebecca can appreciate the decision to shield from her boys some of the tougher realties of the career.
Rebecca:  "Just like when I was a child, the night shifts can sometimes be a challenge. My eldest son cries some nights because he misses his father.  I explain that he is sleeping with the fire trucks and he needs to be on call in case he has to do a rescue.  My son seems to accept it more when he thinks about his daddy being a superhero."
Unfortunately, Rebecca recalls many times when she would imagine the fire chief coming to her door to tell her that her husband Jerry would not be coming home.  Acutely aware of the risks of her husband's occupation, Rebecca often worries that she would not be adequately emotionally prepared if something were to happen to him.
Rebecca: "My first reaction would be that he was unfairly taken from me."
Rebecca copes by encouraging Jerry to talk about work with her.  She realizes that due to the conditions Jerry is sometimes exposed to, he keeps certain things to himself — just as her father did.  Rebecca has become aware of the difficulties firefighters have in communicating to their spouses the dangers they face.  It is an attempt to protect the family, but she encourages her husband to talk to her nonetheless.
Regardless of the degree of communication, spouses of firefighters become adept at and prone to monitoring their spouse's level of strain and distress; emotional distancing being the most identifiable symptom.  Even healthy communication regarding traumatic experiences at work has resulted in vicarious trauma symptoms in spouses of firefighters and has caused changes in the martial relationships.  The effort to shield the family can be responsible for creating some ambiguity regarding the true dangers of the career.  Interestingly however, research has shown that following 9/11 wives of firefighters are now much more aware of the potential risks, and this can make it very complicated for them as they try to be supportive even though they may feel frightened.
Rebecca: "When I stop to think about Jerry working in uncontrollable, possible life threatening situations, my fears increase.  But this reminds me that I need to be a strong support person for Jerry."
In addition to immediate family support, she and Jerry gather strength from the support of a sister/brotherhood that exists within the fire, police and EMS 'family' as well.  Jerry speaks openly with Rebecca's father, supporting each other regarding job-related situations. The brotherhood has a history of shared experience; their mission to serve the community unites them, and out of this stems an intense loyalty to one another. The family unit invested in the brotherhood has long-lasting positive impacts on the firefighters and their families, such as the obligation to assist the spouses of fallen firefighters in any way they can.
Unfortunately, there is a downside to such closeness.  Inasmuch as it provides a sense of loyalty, the brotherhood can appear rather cliquey.  There may be some pressure to stay "in the loop" in regard to firefighter subculture.
There is no question that families are proud of their loved ones in this profession, however it is a taxing, challenging way of life that takes getting used to.  Dealing with missed holidays, being alone with the children, and living in a frequent state of worry when spouses are at work can affect how the family tolerates and manages the difficult aspects of this job.
Rebecca: "[If I could] I don't think that I would change [Jerry's profession].  I just pray that he stays safe at work, so that he can come home to us."
– Stephanie Rhys, Contributing Writer