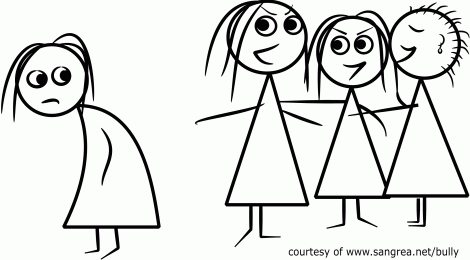 Teenage suicides related to bullying have gained much media attention over the past few years.  Organizations have come about to help with prevention efforts.  One such organization is PREVnet, "a national network of Canadian researchers, non-governmental organizations (NGOs) and governments committed to stopping bullying."  Their focus goes beyond just the immediate problem; addressing bullying at all levels, including intervention, education, assessment and policy development.
The Trauma and Attachment Report recently spoke with Dilys Haner, a PhD candidate working in the field.  She has been involved with Tapestry New Artist Works and Kids Help Phone, both of which partner with PREVnet.  She is currently working with Scouts Canada, another PREVnet partner, to help evaluate their training as it pertains to duty-of-care and healthy relationships.
Q:  What is PREVnet about and what are some of the things they do to help with bullying? 
A:  PREVnet is a not-for-profit organization with an overarching goal to reduce and eliminate bullying in Canada.  We partner with over seventy non-government organizations who work with children and youth, along with researchers in universities all over Canada.  The researchers we work with study where behaviours start and try to come up with more suitable interventions to stop bullying from happening.  For example, PREVnet created an opera last summer with Tapestry New Artist Work aimed at increasing awareness about bullying for grade four and five students.
Some of the other initiatives PREVnet is involved with are developing programming with anti-bullying themes and course kits for teachers.  The course kits help teachers to address the issue while involving children with activities in the classroom.
At present, PREVnet is working with Big Brothers and Sisters, Scouts, and Red Cross to help train those who are directly involved with children; training their adult volunteers on how to address and teach children to deal with bullying, to be aware of the signs, and to come up with solutions to address the issue.
Q:  What makes the consequences of bullying so lasting?
A:  At the core of it, bullying is about power and relationships.  It occurs when there is a shift and misuse of power, where that power is used as a means of abuse.  The actions of the child who bullies are deliberate, with purpose to instil fear in the child who is victimized through physical, verbal and emotional abuse.  When power is taken away from a child, often what is left is an individual with emotional distress and traumatic experiences, especially if the child who is victimized is unable to stop the bullying from happening.
Ultimately the message conveyed through this abusive act is that someone else can hurt you whenever they want, and that you cannot really get away from it; there isn't a safe place.  The child then develops feelings of worthlessness and hopelessness.  Feelings of worth and hope are needed for a healthy outlook on life for both the present and the future.  Without these, children do not see a future, and may fall into a depressive state.  This depression further affects the way they cope with their feelings in unhealthy ways, and may cause them to feel as if they are unable to seek help.
We have a saying at PREVnet:  "Relationship problems require relationship solutions and healthy development depends on healthy relationships."  When children have an issue with subjects at school, they receive tutoring to help solve the problem.  However, when these same children experience relational challenges, they don't get extra help; they get sent home, often unsupervised, to parents who may not be equipped to deal with the problem.
Relationship mistakes can be made by the child who bullies, the child who is victimized or a bystander.  When we are addressing the issue with teachers, children, or community members we don't use the terms bully or victim as it lays blame and puts people down; further victimizing the individuals involved and may also imply that the persons involved cannot change.
Q:  Have you had any experiences with helping the issue of cyber bullying while working with PREVnet?
A:  Yes, I've worked with Kids help phone, a national, bilingual and entirely free counselling service for children and youth, which also receives funding from PREVnet.  While there, I noticed that the topic of bullying, especially cyber bullying, came up a lot.  Before social media became so popular, if a child was getting bullied they knew who the child who was doing the bullying was and could actually feel safe when they went home because it was an environment where the bullying stopped.  What's scary about society now, with the internet everywhere, is that you don't always see the person who is doing the bullying, and there isn't really a safe place to go to stop the bullying.  Kids continue to be bullied even after they close their laptops or phones because you can't turn off the internet.
Parents can't always help their kids, as they did before, because they may not know it's going on or how to actually help their child address such a complex issue.
Another issue with internet bullying is related to anonymity. We are programmed to mimic our environment and facial expressions of those around us – which neuroscientists now know helps us to develop a sense of empathy.  A big part is that we can see each other's reactions.  So for example, if a child hits someone, the pain can be seen in the other's eyes, and it might evoke a sense of empathy, perhaps deterring the person from doing it next time.  But when abuse is done via the internet, the child doesn't get that opportunity to see the pain they are actually inflicting on the other.  The internet blocks the empathy feedback loop.
Q:  Why is it so important to educate not only children but also communities and families about bullying?
A:  Often parents are not equipped and don't know how to address the issue, especially in our current society where technology is growing at such a rapid pace.  Many children don't feel like they can talk to their parents, especially about cyber bullying.  That's why training people who deal with kids to become a mentor is so important – e.g., coaches, teachers, Big Brother and Sisters Clubs, camp councillors, and so on.
Researching bullying and what does and doesn't help allows PREVnet to address the issues and come up with solutions that actually work.
PREVnet may be contacted at:  http://prevnet.ca/
Saqina Abedi, Contributing Writer