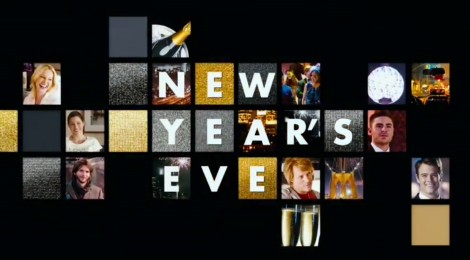 New Year's Eve, director Garry Marshall's most recent movie attempts to illustrate the intricacies of relationships around the characteristically sentimental celebration of New Year's Eve.  The film follows several people throughout the day, from the early afternoon to the midnight ball-dropping ceremony in New York City's Times Square.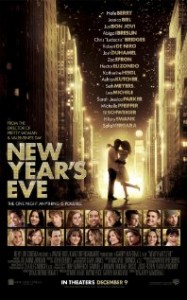 It begins with a monologue from Claire Morgan (Hilary Swank) talking about the momentous nature of New Year's Eve and how millions are united in celebration around the world on this one night.  As the movie continues, several characters are introduced with their own unique sub-plots related to the theme of 'ringing in' the new year.
Although Marshall makes a haphazard attempt to illustrate the intricacies of human relationships with some sappy story-lines, he nevertheless does draw attention to the fact that holidays are ultimately about human relationships, love, and closeness to others.  The movie shows many different kinds of love:  love between new neighbors (in an elevator); love lost and found; love of new experiences; and love for family.  It is under the bright lights and big-city glare of the ball-dropping in New York City that Marshall develops the nuances of love in its many forms.

Amongst the barrage of mini story-lines, a few stuck out as having some underlying depth.  One is that of Robert De Niro's character, Stan Harris, who is a terminally ill cancer patient on a hospital ward living his last moments of life alone, without the comfort of family.  There is some lack of clarity as to why he is alone, other than he has 'made mistakes in his life.'  Sentimental memories watching the ball-drop with his daughter when she was younger make him determined to see it one last time; that is, despite his outward acceptance of his fate, he still longs to somehow re-connect with family.
The concept behind the character of Stan is basically a good one, yet De Niro's portrayal lacks the depth required to effectively depict the emotionally charged subjects of illness and loneliness.
Of the countless performances Marshall presents to the audience, the character of Aimee (played by Halle Berry) sheds light on a subject that is, unfortunately, quite prevalent in the world today:  separation due to war.  As others are worried about finding a date or the right party to attend, Aimee, a nurse who is working the night shift, rings in the new year via webcam with her husband, a soldier deployed over-seas.
Berry's short, but touching performance allows a glimpse into the lives of individuals who are separated from their loved ones by war, and the toll it takes on them during the holiday season.  The simple moments shared via webcam provide a sense of continuing interpersonal connection, but the ominous cloud of uncertainty regarding their future lingers in the words unsaid.

 There is also a sense of angst and despair around the possibility of self-change.  Played by Michelle Pfeiffer, the character Ingrid, a mousy executive assistant who quits her job because she is unappreciated by her boss, is well cast.  But it's her unlikely pairing and chemistry with Paul (Zach Efron), a zealous bike courier who tries to make her unfulfilled dreams come true, that truly adds dimension to her character.  As they go through her bucket list of wishes, two strangers find themselves sharing a bond that is both unique and fulfilling.  Ingrid uses the holiday momentum of new beginnings to alter her life by not only quitting a job she was obviously unhappy with, but also by experiencing the unknown.
Although it has its moments, in its entirety New Year's Eve is a mediocre depiction of one the world's most momentous celebrations.  The barrage of characters, each with their own mini storyline, barely skims the surface of human relationships, even those relationships centered on the holidays.  Fewer characters in more depth would have fared better.  While it provides some light entertainment for those in the holiday spirit, it lacks the depth needed to become a holiday classic.  You're better off watching Love Actually.
-Saqina Abedi, Contributing Writer