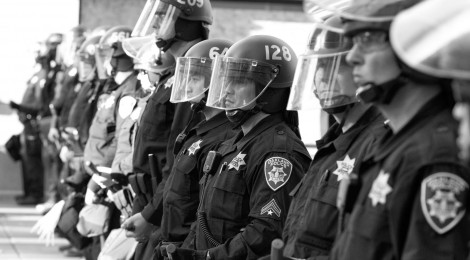 After dropping off a colleague on September 14, 2013, Jonathan Ferrell began his journey home.  That night, the North Carolina highway proved more treacherous than he expected.  He veered off an embankment and, shaken but uninjured, made his way over to the first house he saw to get help.  But residents mistook his intentions and called police.
It's unclear what transpired when three officers arrived 11 minutes later.  In moments, Ferrell lay dead with 10 bullets in his body.  Autopsy reports suggest he was on his knees when shot.
Victims of police brutality have been people of all ages, races, and walks of life – from 84-year old Kang Wong, beaten for jaywalking, to a 14-year-old boy disfigured for shoplifting, to two married university professors, one of whom had undergone open heart surgery only several days prior to being struck and dragged off in handcuffs.
Police violence does not confine itself to any one area.  Hundreds of protestors suffered physical and sexual assaults at the hands of police officers during the 2010 Canadian G20 protests.  Civilians were killed and publicly tortured by police as protestors pushed for democracy in Kiev, Ukraine.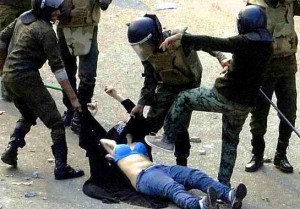 But what puts officers at risk for engaging in police brutality?  New research from the Buffalo School of Medicine and Biomedical Science points to links between police brutality and pre-existing post-traumatic stress disorder (PTSD) in the officers themselves.
PTSD is a diagnosis traditionally used for victims of overwhelmingly stressful experiences, such as rape, combat, and natural disasters.  Many victims of police violence often experience PTSD, which manifests as severe agoraphobia and paralyzing panic attacks.  This creates a downward spiral of isolation, depression, and even suicide.  Treatments for PTSD involve facing the trauma and reconsolidating the memories in more constructive ways.
But the link between PTSD and police violence appears to be a two-way street.  Not only does police brutality have the potential to cause PTSD in victims, but according to psychiatrist, Ben Green of the University of Liverpool, violence among officers may be exacerbated by their prior experiences, their previous high incidence of PTSD, which stems from being exposed to many of the same traumas as soldiers in combat.
Yet because mental health issues continue to be a source of stigma in law enforcement, many police officers suffer in silence.
In the U.S., police officer deaths from gun violence and other causes have gone up by 42% from 2009 to 2011.  And each year, 10% of all law enforcement officials are assaulted, with a quarter of them sustaining injuries.  At the same time, public pressure on police to restrain their use of firearms against the public has reduced the number of bullets fired by officers by over 50% in the last decade.  This means that police officers are finding themselves in life-threatening situations more often, but are less able to respond, creating a state of fear and tension, factors that give rise to PTSD.
For the public, the danger of police officers developing PTSD comes from an increased startle response, suspicion, and aggressiveness.  These tendencies can make officers more likely to lash out at the public and result in the deadly overreactions that sometimes occur.
Symptoms of PTSD are often triggered by the same situations that caused the trauma.  This may be why officers who kill unarmed civilians report feeling confused and suffer from memory loss when they lose control.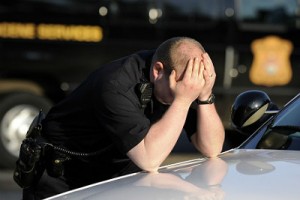 While many officers cite unmanageable work stress and traumatic incidents suffered on the job when explaining misconduct, few law enforcement agencies offer comprehensive mental health care for dealing with PTSD.  Among the officers themselves, talking about trauma and mental health is oftentimes discouraged, leaving sufferers isolated or stigmatized.  At the same time, the justice system also serves to cover up the problem, imposing minimum punishments for officers and giving victims of police brutality no closure to initiate their own recoveries.
Better mental health awareness would help.  Allowing police officers to speak freely and receive treatment for their job-related stress would reduce PTSD.  Teaching fellow officers to recognize the symptoms of PTSD –including social withdrawal, personality changes, and poor decision-making – would allow them to help their partners and coworkers before problems escalate.
Giving officers access to treatment and support early on can reduce future incidents of police brutality and ensure that they get the help they need.
And understanding that police officers are often victims of violence is important for continued public trust in law enforcement.  The key is education and access to treatment.
-Nick Zabara, Contributing Writer