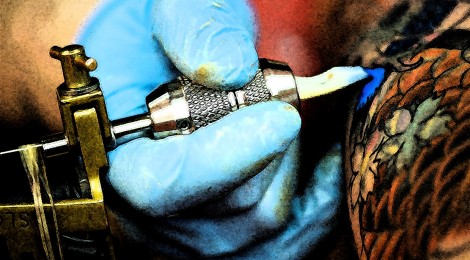 Latishia Sanchez was fourteen when she was attacked and raped by five men, including her boyfriend. During the assault, the men tattooed her boyfriend's name across her neck using a needle and pencil lead.
According to the Canadian Women's Foundation, fifty percent of all Canadian women will experience at least one incident of physical or sexual violence in their lifetime. This can take many forms; recently tattoo branding has become a popular form of violence against women.
As a weapon of domestic violence, perpetrators use ink to assert control and ownership over victims, either physically forcing them to get tattoos, or drugging and tattooing them while they are unconscious. The offender's name is usually forced onto a visible part of the victim's body.
Six years after she was attacked and branded, Latishia Sanchez continues to relive the painful memories of her rape. In an interview with CBS News, she describes that seeing the tattoo daily has devastated her self-esteem:
"I didn't think that I'd get raped, let alone my boyfriend allowing it. Right now our mirrors are covered up because I can't even look at myself."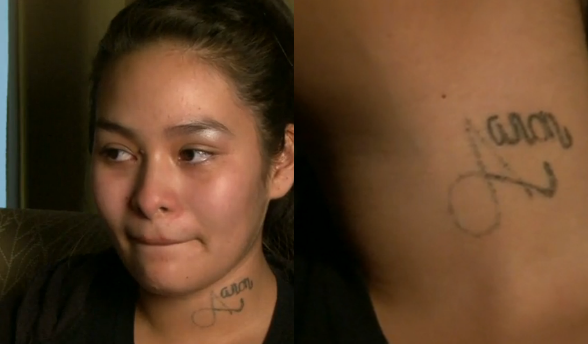 Jennifer Kempton, a survivor of human trafficking, remains traumatized from her experiences of branding violence in the human sex trade in Columbus, Ohio. In an interview with The Guardian, she recalls how a pimp tied her down and tattooed "Property of Salem" above her groin, marking her as his possession. Kempton explains that the shame and trauma associated with this incident caused her to spiral into a deep depression and attempt suicide:
"Every time I took a shower or tried to look at my body I was reminded of the violence and exploitation I'd suffered. I was so grateful to be alive, but having to see those names on your body every day puts you in a state of depression. You begin to wonder whether you'll ever be anything but the person those tattoos say you are."
Sanchez and Kempton are currently seeking tattoo removal treatment. Dawn Maestas, a tattoo removal specialist and domestic abuse survivor explains the horrors of tattoo violence in an interview with CBS News:
"I've had victims who have been drugged and tattooed, who have been physically held down and force tattooed, and I get angry. I get angry because I know what these tattoos mean. This is control. This is 'you belong to me.'"
Maestas is not alone in the fight to end ink violence against women. Chris Baker, a tattoo artist in Chicago and owner of tattoo parlor Ink180, is known for offering free cover-up tattoo and removal services for survivors of domestic violence and sex trafficking.
Ink180's mission is to "transform pain into something beautiful," for survivors of branding violence. The tattoo parlor also has a clause on its website describing work it will not do, including tattoos that are gang related, satanic in nature, vulgar, or degrading to women.
Since the shop expanded its services to abuse survivors, Baker estimates that he has completed over 2,000 free cover-ups or removals. Though his shop offers regular, paid tattoos as well, over 80 percent of the work he does is pro bono.
One of the most common types of tattoos Baker sees is barcodes. These actually serve a tracking system for pimps who brand victims with their contact information to monitor the behaviour of their sex workers. In an interview with The 700 Club, Baker describes the experience of removing barcode tattoos from a fifteen-year-old sex trafficking survivor:
"The relief on her face, you could feel the pain she had been through trying to get rid of old tattoos that defined her past."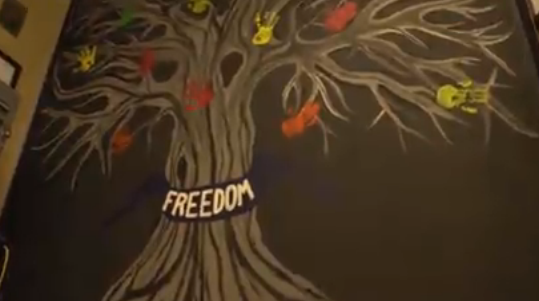 Baker's shop features both a prayer wall and 'Freedom Tree' for survivors of abuse. Once their tattoos are removed, women can place a handprint on the tree symbolizing their newfound freedom and identity. Baker explains:
"They are very shattered people. I can't even use the word broken, because their psyche is very fragile. We've had girls collapse on the floor in tears, because they no longer need to look in the mirror and see that barcode on their neck, or their abusive ex-boyfriend's name on their hands."
In an interview with Huffington Post, Baker urged other tattoo parlors to consider offering similar services and spread awareness of tattoo violence. For him, the rewards are worth the free work:
"I see the look on their faces when a domestic violence survivor doesn't have to look down at their ex-husband's name on their wrist or arm. I see that relief that he's physically gone from their lives and they're physically safe, but now they're mentally safe as well."
–Lauren Goldberg, Contributing Writer
Photo Credits:
Feature: THOR on Flickr
First: Screenshot from CBS Evening News
Second: Screenshot from CBN TV