Richard Dadd was a Victorian era English painter who had a penchant for creating imaginative paintings of fairies and the supernatural, which he rendered with minute and precise detail.
Dadd was found to have exceptional artistic skills in painting from an early age. He studied at Royal Academy of Arts and was awarded the Medal for Life for his drawing in 1840. He was considered a leading talent among his peers, who founded the Clique, a group of artist who rebelled against academic ideals and insisted that art should be judged by the public instead of by academics.
Dad was also famous for his madness and creativity during the periods that he was admitted to Broadmore Hospital and Bedlam Psychiatric Hospital for the insane. While travelling with Sir Thomas Phillips, Dadd underwent dramatic personality changes, becoming violent and delusional. His symptoms could be diagnosed today as being related to paranoid schizophrenia; he had delusions of his father being the devil and Dadd murdered him before fleeing to France. He again attempted to kill a passenger on the way to France, but was arrested by the police and was hospitalized.
Dadd remained hospitalized for the rest of his life and painted his most well-known painting: The Fairy Feller's Master-Stroke, while living in the hospital. He died in Broadmoor Hospital, a high security insane asylum at the time.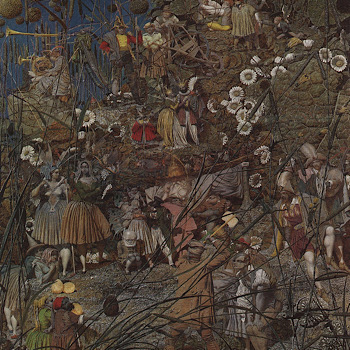 Image Credit:
Feature: DcoetzeeBot at Wikimedia Commons, public domain
Body: Miketm~commonswiki at Wikimedia Commons, public domain