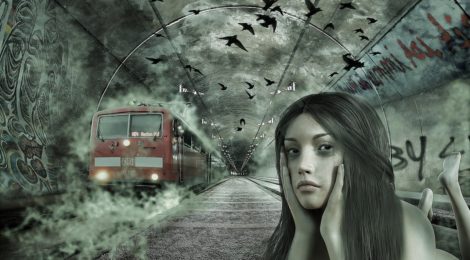 On The Train Ride Home, the title track from the 2019 album of Australian indie folk-rock band The Paper Kites, expresses the thoughts of a dejected traveller struggling with isolation. The first verse introduces us to the despondent protagonist: 
Waiting down at the station
I don't remember
I think it was late then
Standing, always so quiet
We're like elevators
Filled up with strangers
The lines allude to a sense of alienation that the person feels from both their surroundings and their own identity. In the chorus, they finally get on the train and start praying to themselves, even though the world has indicated no hope for them.
In the second chorus of the song, they let the listeners know what their heart desires:
I want someone to grow with
Songs I can sing to
And a family to cling to
However, they are convinced that those things are not attainable, a belief that is the source of their helplessness and desperation. They say, "if I can't get the things I want, just give me what I need", because they believe that they are not deserving of even the simple pleasures of life. 
The minimal instrumentation and melancholic tune of On The Train Ride Home add to its overall theme. At the end of the day, what the protagonist needs is to be home, both literally and metaphorically, and they pray that the train will take them there.
Image Credit:
Feature: parapic at Pixabay, Creative Commons