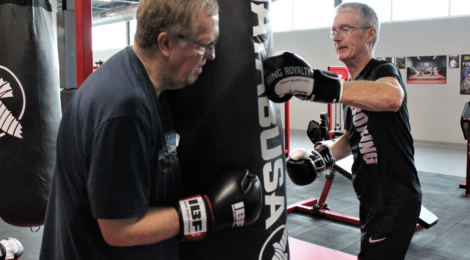 Parkinson's disease affects people physically and psychologically, but research shows that routine exercise can slow the progression of symptoms, increase social support, and check stigmatizing assumptions. The Parkinson's Resource Centre's Rock Steady Boxing (RSB), is specially designed for people with Parkinson's disease (PD), using force intense exercise to help boost dopamine, strength, and empowerment.
Joyce Johnson, the executive director of Rock Steady Boxing Indianapolis, explains that her mother suffered from PD for many years and that RSB has been an opportunity for her to honour her mother's memory. RSB has grown to over 700 locations in 50 American states and 14 countries, including Canada's Toronto location. She states:
"Most of the folks in the program love telling friends and relatives, and especially grandkids, that they are "boxing" rather than going to therapy. It's very motivating and a real source of pride."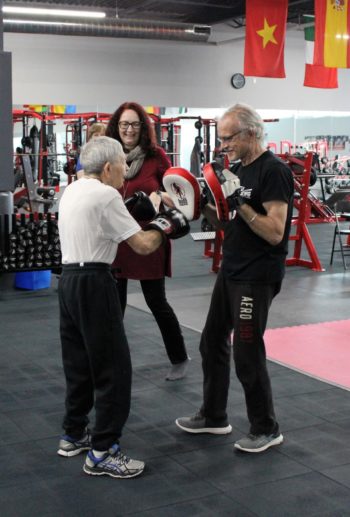 The Michael J. Fox Foundation describes PD as a chronic, degenerative neurological disorder affecting about 1 in 100 people over age 60. PD is correlated with loss of dopamine in parts of the brain such as in the substantia nigra, leading to an imbalance in signals between the basal ganglia to the motor cortex. PD is known to affect self-initiated and spontaneous movement and is characterized by resting tremors, slowness and rigidity of movement,  difficulty maintaining balance/keeping oneself upright, and gait impairment. An exceptional YouTube advert by UK Parkinson's Disease Society shows how PD can interfere with the cognitive processes necessary to do everyday tasks.
With no known cure, and no objective tests or biomarkers, the diagnostic experience for suspected PD can be long and stressful. Symptoms vary and can include depression, anxiety, physical pains, higher risks of falling and injuries, changes in smell, sleep disturbances, cognitive and emotional changes, and even changes in writing and speech. In addition to experiencing debilitating symptoms, people with PD face challenges from stigmatization to feelings of shame or hopelessness. Mary Neilans, the executive director of Rock Steady Boxing Toronto, states in an interview with the Trauma and Mental Health Report that:
"People recently diagnosed or in the early onset period of Parkinson's may not have told everyone, they may still be working. As your physical symptoms start to progress —  like maybe tremors becoming more visible, you're more fatigued, your off periods are exacerbated, your voice is lowered, or it's hard to participate in conversations — then the mental health symptoms start to progress as well, and isolation begins to increase."
Rock Steady Boxing was founded by Scott C. Newman, who was diagnosed with PD at the early age of forty. He began one-on-one boxing training and noticed dramatic benefits in his overall quality of life.
According to ESPN, boxing is one of the most physically demanding sports, involving agility, speed, muscular endurance, accuracy, balance, hand-eye coordination, footwork and overall strength. Continuous, intensive training may lead to the reorganization of synaptic connections and slow the progression of the disease.
Johnson explains what training looks like:
"New boxers are often matched with a buddy who can show them the ropes and encourage them. Most newcomers haven't been exercising regularly, so there is a learning curve as their bodies adjust to a new regimen. One of the things they may be asked to do early is jump rope. Boxers love it when they start out with 2 or 3 jumps and then six months in, they can jump 40 or 50 times."
Many RSB affiliates have a personal connection to PD, and know someone diagnosed or are diagnosed themselves. And although boxing, at first, may seem daunting, most take to it well.
According to Johnson:
"We see people arrive with a walker or cane, and then a few months later, they are no longer using them. It's very inspiring and exciting for them and us. My vision is that one day there will be a Rock Steady Boxing program in every community throughout the world, so that when the doctor says, "You have Parkinson's Disease," it will be followed with, "There's a gym down the street where you can fight back."
-Mollia Weidman, Contributing Writer
Image Credits:
Feature: Mollia Weidman, at Budo Canada. Used with permission from Mary Neilans
First: Mollia Weidman, at Budo Canada. Permission from Mary Neilans
Second: Matthias Zomer at Pexels, Creative Commons