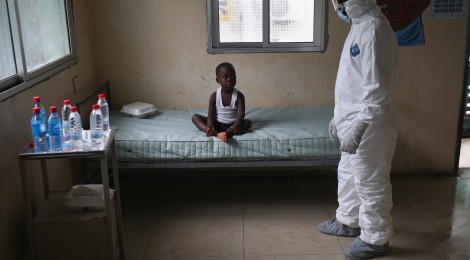 13-year-old Jennette's (name changed by UNICEF) grandmother died from Ebola. Shortly after attending the funeral, Jennette began to feel sick. When fever developed, she was taken to a local treatment center along with her mother and sister. All three family members tested positive for Ebola. Against all odds, they were successfully treated and released.
Jennette  broke down in tears as she spoke about her experience as a victim of Ebola to Timothy La Rose, a Communication Specialist with UNICEF Guinea. Despite being healthy again, Jennette could not feel good about her recovery, now facing the stigma of being an 'Ebola contact'.
"I cannot return home [to] my aunt who threatened me a lot when I was sick. So far she has never asked about my fate."
The WHO (World Health Organization) estimates Ebola fatality rates between 25 and 90 percent. Passed on through contact with the bodily fluids of an infected person, symptoms are gruesome and can include internal and external bleeding. Currently, there are no approved vaccines, and the 2014 outbreaks in Guinea, Liberia, and Sierra Leone have created immense fear among those living in affected regions. Even in the United States, by October 2014 a handful of cases have quickly led to panic in some regions.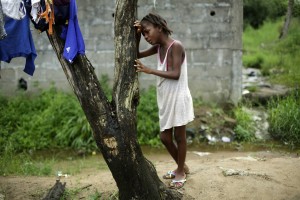 Jennette is only one of the many children facing the consequences of neglect due to the distrust surrounding Ebola survivors. UNICEF estimates that about 3,700 children have lost one or both parents to the current outbreak.
UNICEF's regional director for West and Central Africa, Manuel Fontaine, said, "these children urgently need special attention and support; yet many of them feel unwanted and even abandoned."
After surviving Ebola or losing a family member to the virus, these children are being shunned by surviving relatives due to fear of reinfection. "Orphans are usually taken in by a member of the extended family, but in some communities, the fear surrounding Ebola is becoming stronger than family ties," Fontaine told CNN.
Orphans—some as young as two years old—are in the streets alone, lacking proper shelter, healthcare, and nutrition. Many of these children have undergone extreme trauma. Some have spent weeks in isolation wards without caregivers or proper mental healthcare. The New York Times reported a gut-wrenching scene:
In the next ward, a 4-year-old girl lay on the floor in urine, motionless, bleeding from her mouth, her eyes open. A corpse lay in the corner — a young woman, legs akimbo, who had died overnight. A small child stood on a cot watching as the team took the body away, stepping around a little boy lying immobile next to black buckets of vomit. They sprayed the body and the little girl on the floor with chlorine as they left.
Surviving children must also struggle with the grief of losing parents and siblings. "The hardest part of the job is telling parents their children have died or separating children from their parents," Malcolm Hugo, a psychologist working in Sierra Leone, told the Guardian.
Many children are displaying symptoms of Post-Traumatic Stress Disorder, a condition that may develop after exposure to trauma. Intense grief, changes in eating and sleeping patterns, and extreme cognitive impairment are being reported in children who are most affected. Symptoms of depression and anxiety are also common.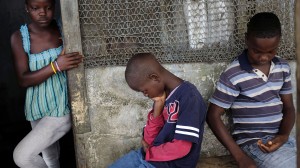 The WHO reports that the most severely affected countries, Guinea, Sierra Leone, and Liberia lack resources to help those affected by the outbreak.
Many humanitarian aid agencies like Doctors Without Borders have sent physicians and healthcare workers to help in the treatment and containment of the disease.  However, very little psychological or medical help is available for orphaned survivors. UNICEF has appealed for $200 million to provide emergency assistance to affected families but has only received a quarter of the amount so far.
Currently, the organization is looking at unique ways to provide emotional support. In Liberia, they are working with the government to train mental health and social workers. UNICEF will also be working with Ebola survivors who are now immune to the disease to provide support to children quarantined in health centres.
In a statement to Al Jazeera, Fontaine explained, "Ebola is turning a basic human reaction like comforting a sick child into a potential death sentence." Further work needs to be done to abolish the harmful distrust surrounding Ebola survivors, and strengthen family and community support. Without this support, orphaned children face a harsh and unwarranted emotional toll, alone.
– Khadija Bint Misbah, Contributing Writer