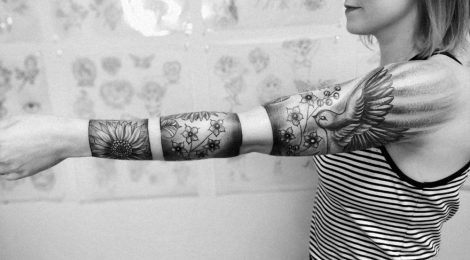 "I think I've always struggled with my mental health. Even as a little girl I can remember being uncontrollably sad and stand-offish from people… I can remember feeling such sadness and hatred towards myself that I felt like I just needed to let it all out."
When university student Krista (name changed) was young, she suffered from debilitating anxiety attacks and feelings of self-hate, which led her to begin self-harming at the age of 12. Self-harm can take on many forms such as cutting, burning, scratching, or other means of self-injury.
Artist and mental health advocate Nickola Pandelides has been a tattoo artist for three years at Koukla Ink, a tattoo shop that she owns. In an interview with The Trauma and Mental Health Report, Nickola describes noticing that people with personal difficulties were increasingly coming to her for help and she wanted to do something about it:
"So many clients were coming to me for scar cover-up tattoos. I realized that there was a need for it, that there needed to be a safer space for people to go to open up about these things…that's when I started Project New Moon."
Project New Moon is a non-profit tattoo service for people who are left with scars from self-harm. Nickola has received an overwhelmingly positive response to the project from people all over the world, showing that there is a widespread desire for such services. Nickola has been running this project out of pocket since May 2018.
"There have been over 200 responses, and a huge wait list that I can't get to all on my own, so we definitely need help, and we're trying to start funding through GoFundMe."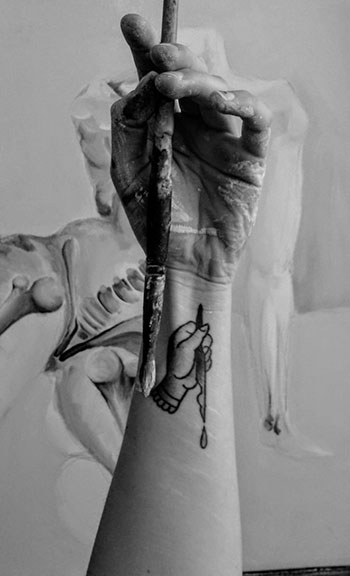 Unfortunately, there is still stigma surrounding self-harm. In particular, people perceive these visible scars from self-harm negatively, often judging harshly and treating these survivors poorly. One of Nickola's clients, Emily, has a story similar to that of Krista; she also struggled with self-harm, and eventually decided to get a cover-up tattoo. In an interview, Emily explains:
"The stigma around self-harm scars is huge. A lot of people see people in our situation and think they're just looking for attention, which is a huge problem because then people don't get the help they need… Everyone expresses their pain differently."
The reasons that people choose to self-harm are complex, and can be difficult to understand. However, self-harming behaviour is generally thought to be a way to release or distract from overwhelming emotional pain and anger, or to feel a sense of control. The act of self-harming may temporarily relieve negative feelings, but Emily describes how it ultimately led to remorse in her case:
"I decided that I wanted to get a tattoo to cover my scars because I felt a lot of shame and guilt for what I had done to myself… As I got older, I would look at my scars and I would feel so embarrassed, so I would try to cover them with bracelets, but I would always have to take them off eventually and my scars were still there."
Emily explains that her tattoo represents growth and change; it has helped her to forgive herself and acts as a reminder that she can still turn her life into something beautiful despite all the pain she once felt.
Many of the women who come to Nickola for cover-up tattoos are mothers who have been living with their scars for years. She tells me about one mother's story that stood out to her:
"She was a drug addict and had recently become sober. She had a lot of scars on her arm from scratching and picking, and self-harm as well. She had a little boy, and he was getting to be the age where he would be starting to ask questions. I think it really mattered to her that she would have something positive [her cover-up tattoo] to talk to him about, and that her scars would be less noticeable so she could kind-of protect him from that."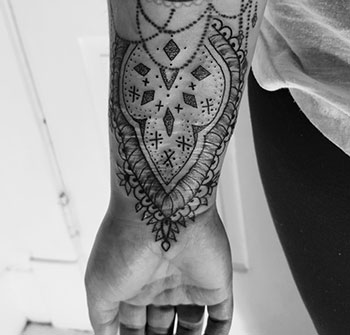 After turning their darkest memories into something beautiful, Nickola explains that her clients' feelings of powerlessness, shame, and embarrassment are replaced with relief, and a regained sense of control. She remarks that many of her clients feel as though getting the tattoo was an essential part of their healing journey:
"I think a part of healing is also being able to feel on the outside as you do on the inside."
Krista also received a cover-up tattoo from a different tattoo artist. As an artist herself, Krista wanted her tattoo to be a reminder that her hands should be used to make beautiful art, instead of being used to hurt herself. She explains that even though she is still working towards recovery, getting her tattoo gave her not only a sense of control, but also the motivation to refrain from self-harm:
"I think it's changed my life by not allowing me to cut there anymore. I don't want to ruin the tattoo so it's even more incentive to take better care of myself."
-Emma Bennett, Contributing Writer  
Image Credits:
Feature: Nickola Pandelides, used with permission
First: Krista (name changed), used with permission
Second: Nickola Pandelides, used with permission