Roshanak M. Heravi is a Toronto-based painter, muralist and artist. She received her BFA from OCAD university and her work is influenced by Cecily Brown, Picasso & Hieronymus Bosch. 
Through her abstract figurative paintings, Roshanak excites and delivers a positive energy to the audience using color and motion. Her painting 'Birth, rebirth, August chaos & eros', a juxtaposition of few historical works, was created while she was going through a transformative time herself. "The space I was in and the ideas I wanted to explore inspired me to choose the name" explains Roshanak. 
Human behaviour sparks Roshanak's curiosity to a world of self-discovery through transformational and educational platforms, as she continues to paint & exhibit her work through Maison Depoivre Gallery & Unkle Collective. "Painting is my therapy" says Roshanak.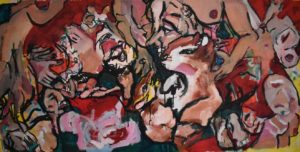 Image Credits:
Feature Image: Fuu J, On Unsplash, Creative Commons
Body Images: Used with artist's permission, Roshanak M. Heravi