Over 2 million babies are stillborn every year worldwide, resulting from a genetic or physical defect, an illness suffered by the mother, or problems with the umbilical cord.  In more than one quarter of cases, no cause can be determined.
In a recent interview with The Trauma & Mental Health Report, Heather, a mother and mature student shared her experiences surrounding stillbirth and commented on the services provided for families.
I chose to name my baby Benjamin.  I didn't return to work after I got the ultrasound results and eventually I resigned.  I didn't want to face the office, or their sympathy.
Immediately after a stillbirth, parents are offered various services to help manage their grief.
I was given a private room for the induction – an artificially stimulated labour – and received options for grief counselling and the services of priests and rabbis at the hospital.  We had him cremated, and the tiny basket of ashes was buried on my grandmother's grave.  My husband and I also received genetic counselling to try to find the cause of the loss.
Parents of stillborn children have the option to see, touch, or hold their baby.  Memories that validate their experiences as parents can be created through handprints or footprints, pictures, or keeping locks of hair.  It can be overwhelming to make these decisions while coping with the reality that your child is gone, but these options may help parents make sense of their grief.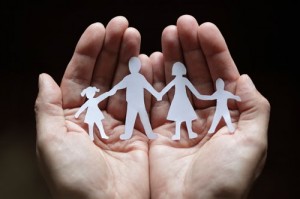 I was 21 weeks pregnant, so I was already making plans, thinking of names, and my daughter was looking forward to having a sibling.  I also looked physically pregnant… I was ready to have a baby, and in a fleeting moment he was gone.  It was so hard to move forward after that, and it was hard to reach out for help.
Interactions with hospital staff following the death of the child may influence how parents cope.  A 2013 study by Soo Downe, an associate professor at the University of Central Lancashire, found that parents believed there was only one chance to create an environment conducive to coping.  This means that positive memories and outcomes following a stillbirth depend as much on caring attitudes and behaviors of staff as on high-quality clinical procedures.
When interactions with hospital staff did not create a supportive environment, parents became distressed, which added to their grief and affected their ability to manage their jobs, family life, and mental health.  This additional stress can ultimately impact couples' willingness to seek help.  When these interactions were more compassionate, parents were more likely to have positive, healing memories that aided their psychosocial recovery.
It is also common for parents to develop poor coping strategies, and to adjust differently after the loss of a child. Those who do not seek out services because of shame, fear, or anger tend to suffer in silence. A study by social worker Joanne Cacciatore, Faculty Associate at Arizona State University, shows that women who attend a support group develop fewer post-traumatic stress symptoms than those who do not.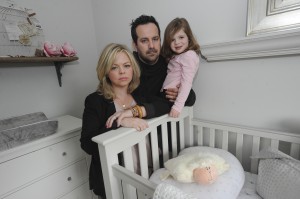 Opening up to other bereaved mothers is helpful for reducing grief and other mental health difficulties.  Partners may also find reaching out to religious or spiritual leaders, funeral homes, and support groups helpful.  Online resources like blogging can also be useful for parents looking to connect in an anonymous way.
Heather was lucky to have the support and experience of the women in her family, which played a critical role in how she managed her grief.
I was grateful that my mother came out to stay with me during the termination.  Talking with her helped.  Other family members also began opening up for the first time about their experiences with miscarriage and stillbirth.  I didn't feel so alone.
Some organizations are working to educate marital partners on coping styles and seeking out support.  The International Stillbirth Alliance works to improve stillbirth prevention and bereavement care for those who have lost a child.  Although they do not provide individual services, they work with other organizations to connect locally and globally to improve standards of care.
Women who have had a stillbirth can benefit from bereavement services and support of their loved ones.  Those who suffer in silence will likely do so much longer than they have to.
-Danielle Tremblay, Contributing Writer