Have you ever wished for an escape from your own mind? 
Bailey Jordan is a realism artist who incorporates themes of mental health into her work. Her digital illustration featuring a woman "exiting" her mind encapsulates the wish to have a break from ourselves. In conversation with the TMHR Jordan explains her reasoning behind the piece: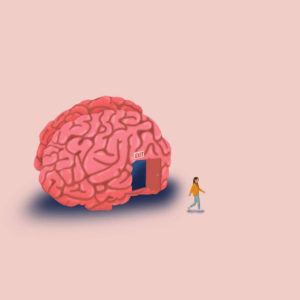 "When I created this, I was having a particularly hard time getting away from my own negative thoughts. I remember wishing my brain had an exit so I could have just a second of peace."
The process of creating this piece, which can be seen on her Instagram page, provided Jordan the escape she needed. Jordan notes how her art has served as a distraction from unpleasant thoughts. Having a creative outlet can be a helpful way of representing one's internal experience in a physical manner. 
Feature Image: Dustin Tramel, on Unsplash, Creative Commons
Body Image: Bailey Jordan, used with artist's permission